Streetscaping project gets Ministry go-ahead
BRAMPTON, ON –  Great things are happening. The City of Brampton received approval from the Minister of the Environment and Climate Change for the Downtown Brampton Streetscaping Environmental Assessment project, also called Downtown Reimagined. With this decision, the City will move ahead with detail design phase for the streetscaping work and the preferred cross-section as per the Environmental Assessment, but with a condition that any loading zones or accessible parking spots are to be placed where feasible and shall not impede the cycle lanes.
In the coming months, as the detail design phase progresses, stakeholders will be presented with options for the "look and feel" of the design and will have an opportunity to provide feedback. Downtown Reimagined aims to create an aesthetically beautiful environment to boost the image and awareness of the downtown revitalization efforts. The main objectives of the project are to:
• Create a street that will capitalize on the walkability and pedestrian capacity in the downtown
• Animate these streets and to become a placemaking destination
• Bring together pedestrian, cyclist and motorists in a safe and sustainable manner
• Enhance amenities and transform the public realm
The Downtown Reimagined project is being undertaken in coordination with the Region of Peel's Downtown Brampton Capital Project Phase 1, a multi-year project that will replace aging infrastructure, by rehabilitating or replacing new watermains and sanitary sewers in the downtown core. Project construction is anticipated to start in the fall of 2018.
Over the past year, many investigative activities for the project have taken place. This includes pre-engineering, coordination with various utilities and the launch of the Ambassador Program for downtown businesses.
The City of Brampton and the Region of Peel are committed to working with all stakeholders to minimize disruption and ensure a safe transition of traffic and pedestrian movement during the construction. For information visit www.peelregion.ca/downtownbrampton,  www.brampton.ca/downtownstreetscaping or visit the Downtown Reimagined store at 15 Queen St. W.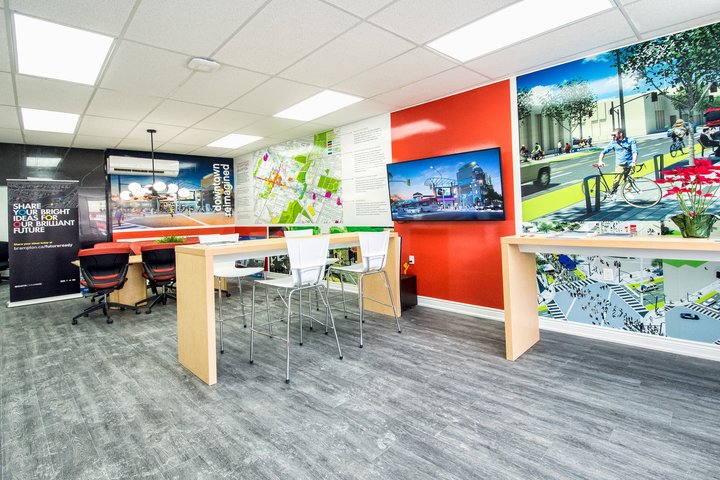 ​Downtown Reimagined store at 15 Queen St. W. in Brampton.
-30-
​Brampton is thinking bigger. We are a future ready organization with a sharp focus. We know our community's growth, youth and diversity set us apart. We sit at the centre of Canada's innovation super corridor, encouraging investment and growing our global success. We are building vibrant urban centres that ignite opportunity and instill pride in the people who live and work here. We are moving Brampton forward to be a connected city that is innovative, inclusive and bold. Follow us on Twitter and Facebook. Learn more at www.brampton.ca.