Knowledge Bookstore in Brampton finds a new way to give back
Originally posted on September 20, 2022 at mymainstreet.ca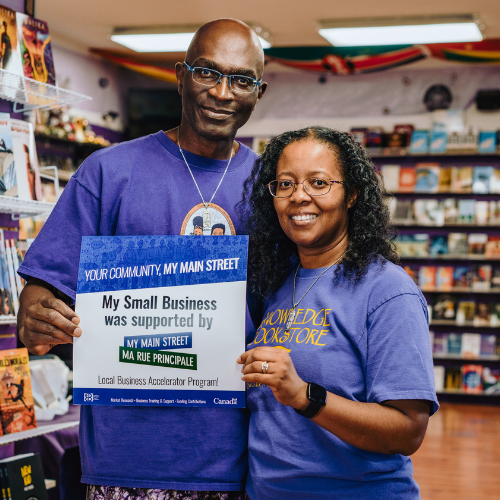 Photo by: David Simon, Sandbox Photovideo (Left: Sean Liburd, Right: Carolette Liburd)
Recently, Sean Liburd received a special visitor to Knowledge Bookstore, the African, Caribbean, and Black-culture-focused shop he co-owns in Brampton with his wife Carolette. The visitor was a professor from McGill, a man who'd frequented the shop in his early teens.
"When we first started the shop we did t-shirts," says Liburd, noting that he and his wife designed, printed and sold the shirts to fund two $2,500 post-secondary scholarships. As it turns out, the visitor was the first recipient of that scholarship and had gone on to get his Ph.D. in the U.S.
"When he graduated, he came back and saw me and said the scholarship did two things for him: it helped his parents at a difficult time and it gave him a lot of confidence in his main street community," says Liburd. "And I said to him: you've given me a lot of confidence also because all throughout your journey in college, you stayed in touch with us."
Over the years, this customer had brought in other young men and introduced them to the space. "He paid it forward," says Liburd.
Knowledge Bookstore is just one of only a handful of Black-owned bookstores in Canada. It offers walls of books for both children and adults featuring African and Caribbean history and culture, written by members of the global Black community. It also sells mugs, action figures, paintings, posters, dolls and greeting cards: it's a main street community space.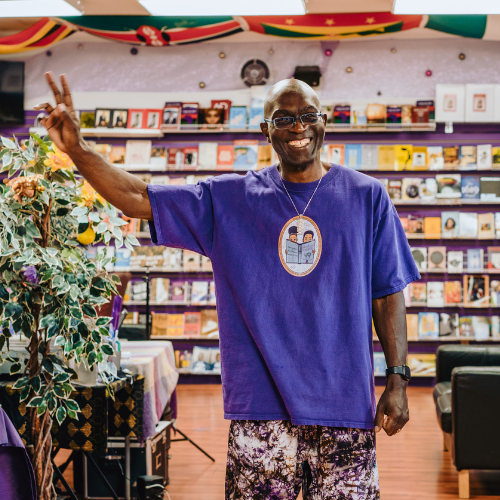 Photo by: David Simon, Sandbox Photovideo (Sean Liburd)
And it's been a community space since its doors opened 25 years ago, hosting author workshops, coaching, presentations and book talks.
The Main Street Ambassador for the City of Brampton connected with Liburd to find out more about the business needs and started working together to see how the program could help. The My Main Street Local Business Accelerator program, which aims to revitalize business communities through hands-on support, is funded with a $23.25- million Government of Canada investment through the Federal Economic Development Agency for Southern Ontario (FedDev Ontario) and delivered by the Economic Developers Council of Ontario (EDCO).
The first touchpoint was providing in-depth market research on the demographics, interests and social media trends in Brampton. Knowledge Bookstore was considering the next steps after two years of COVID-19 lockdowns and immediately zoned in on the statistics indicating their clients were interested in loyalty programs. They quickly implemented a loyalty program.
Knowledge Bookstore also received a non-repayable contribution of $10,000, which it plans to invest in a garment printer to revitalize the custom apparel and t-shirt idea that had so much impact in the past. Liburd estimates he will still have to invest around $28,000 including supplies to open the new revenue stream for the business, which he knows is a significant investment.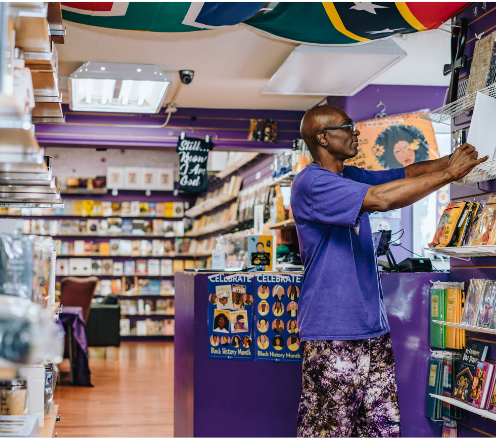 Photo by: David Simon, Sandbox Photovideo (Sean Liburd)
But it's an investment Liburd is willing to make, especially when he thinks back to the results of that first scholarship the shop ever gave out. "There are still a few young men that I do some mentoring with, so I intend to get some young people involved, get some great creative ideas and help them learn the skill of printing," he says. "I think it's a way that I can help to grow the business, open myself up to a new revenue stream, and also continue to give back."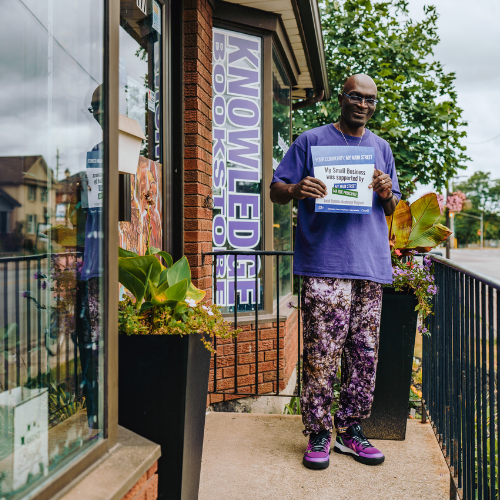 Photo by: David Simon, Sandbox Photovideo (Sean Liburd)
True to his word, Liburd has already commissioned two local artists and six graphic designers to start working on the design process for his t-shirts. He is excited to see where this new venture can go and the impact it will have on the community.
"Assisting small businesses such as Knowledge Bookstore is a key part of our broader economic development strategy," says Clare Barnett, Director, Economic Development Office in Brampton. "Brampton is full of dynamic entrepreneurs with great ideas, and it's tremendously rewarding to see how the My Main Street Local Business Accelerator is helping to revitalize these businesses, take them to the next level, and create energy, buzz, and opportunity throughout the city."